About Kyle Cabling
A successful communications cabling business has vision – a vision where technology is heading and the way business will use this technology.  This is where Doug Kyle saw the future of technology – in communications cabling.
Doug Kyle was working for a computer company for five years as their Network Manager, when the company wanted to sell off their networking division.  Doug snapped up the opportunity and purchased the networking division in 1990.  He named his future communications cabling business, Kyle Cabling. 
Doug's vision for the future has resulted in 23 years of professional cabling and network fabric installation services for numerous industries such as education, manufacturing, government, corporate and small business.  In fact, we have retained many of our clients since the company was established! 
Today, Kyle Cabling has three full time technicians working out in the field and numerous qualified contractors on call.  Our high standard of excellence and service level together with our project management skills in cabling and network services ensures any network communication problems are resolved promptly and efficiently.
We also have close affiliations with the best network and hardware suppliers, helping us keep abreast of new technology.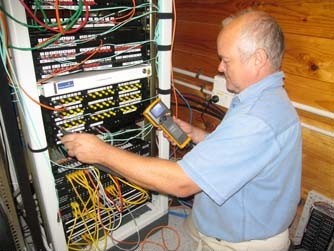 Doug Kyle: NZ's first Fluke Fibre Inspector Video Microscope operator